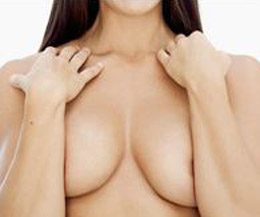 How to Get Rid of Breast Veins
Your breasts are beautiful no matter what size they are, from small and perky to lusciously large. A great bra can give you the lift that nature's reduced a bit, and you appreciate your breasts' health more and more these days, as you take great care of them through regular self-exams and keeping your mammogram appointments.
You may love your breasts, and have someone else in your life who loves them too, but if you've noticed some blue veins on your breast, you might be very unhappy about those marks. They can begin when a woman is quite young, especially if she has a genetic predisposition to veinier skin, and they can develop during and after pregnancy when breasts get a workout. They may also appear after breast implant or reconstructive surgery. Cancer survivors who've made it through their surgery and radiation might want those blue veined reminders of their ordeal gone. And age may simply deposit them there, along with a smattering of broken capillaries and spider veins.
Any flaw on your breasts can be upsetting, especially when it's a reminder of a traumatic time, but there's also the very real annoyance of those veins showing at the top of your breasts when you wish to wear a lower-cut top or special occasion dress, or even a corset during a sexy night. When it's seduction time, you may lose some of your sensual self-confidence and imagine that your partner is looking with horror at those blue breast lines you have. All it takes is for you to be upset by them, and you've lost that lovin' feeling.
So to get happy with your breasts again, feel healthy and confident, sexy and stunning in anything you wear, and just love how you look, talk with a vein specialist.  He can discuss the various methods of safe and effective sclerotherapy targeted to the breast area and conducted with the utmost care, always taking your health and the presence of implants in mind. Your doctor will assess your breast veins and take a detailed medical history, advise you on the best treatment for your breasts' best look and restores your breasts to a more youthful look that you'll love.