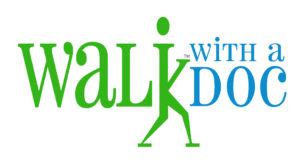 We regret to inform you that due to the COVID-19 outbreak in our area, we will be postponing our Walk with a DOC program and events until further notice. 
In 2015, The Vein Institute of New Jersey at the Cardiovascular Care Group started a new walking/exercise program for employees and patients! We became official sponsors of the WALK WITH A DOC health initiative (See our press release).
WALK WITH A DOC is a nationally and internationally recognized program for getting people interested in taking steps for a healthier lifestyle. People simply walk at their own pace as individuals, partners or in groups and will even have an opportunity to walk with our vein doctors at scheduled events! One does not need any special gear and no special rules, "Just Walk" and it's FREE!
---
---